In 1992 the lineup was Dan Treacy (vocals/guitar), Jowe Head (bass/vocals), Jeffrey Bloom (drums)
1992 East Coast USA Tour
March 31 - New York, NY - "WNYU Radio"
(2 songs from this appeared on the "Don't Cry Baby It's Only A Movie" CD
April 1 - Providence, RI - "Club Babyland"
(w/ the Verlaines & the Mad Scene)
April 2 - Cambridge, MA - "WMBR Radio"
(M.I.T. Pipeline show broadcast on the 28th)
April 3 - Harvard Radio
Afternoon interview
April 3 - Boston, MA - "TT The Bears Place"
(with the Mad Scene)
April 4 - New York, NY - "The Knitting Factory"
(2 sets were played that night. The Mad Scene opened)
April 5 - New York, NY - "Kims Underground Video Store"
Acoustic in-store appearance
April 7 - Hartford, CT - "WRTC Radio"
(Trinity College Radio)
April 9 - Philadelphia, PA - "Khyber Pass Pub"
(with the Mad Scene)
April 10 - Washington DC - "9:30 Club"
(with The Mad Scene)
April 11 - Hoboken, NJ - "Maxwells"
(with the Mad Scene)
Random Notes 1992
Sometime during this span of shows in spring of '92, Jowe Head and Jeffery Bloom also did a radio interview for WFMU in New Jersey.
During the 1992 tour Dan played through a Peavey Deuce tube amp using a red/black sunburst coloured Gretsch guitar.
The Kims Underground instore took place on a Sunday, the day after the epic Knitting Factory double header, the day after the clocks were set forward an hour. Dan was out all night and was rather weary for this instore, showing up late for it. Jowe sang "I Put A Spell On You" to end the show. Dan played a 12 string acoustic Ovation guitar.
The morning after the TT The Bears Place show had our trio, posing for pictures for tourists in Harvard Square outside the Breughel's Bagels Shop. Jeffrey Bloom dressed in a motley jester-like outfit with a huge multi-colored seussian top hat that attracted the attention of an unwitting oddball hippie couple who grilled him with embarrassing questions while snapping his picture.
The Providence show was more relaxed and intimate at Club Babyhead, while the Boston show was hot, sweaty, crowded and cramped -- but had a very electric emotional presence. At TT's in Boston an incident where after the opening band the fire department came and announced that the club was over capacity and if X amount of people didn't leave immediately they were shutting the club down. Everyone sort of edged towards the back while they picked out 100 random drinkers who probably never heard of the TVPs, and things continued on as if nothing had happened.
The Hartford WRTC radio session was delayed for around a half hour due to equipment problems. This session was also videotaped, but sadly is missing. The show was played in front of less then 100 people and broadcast live on the radio
During "My Very First Nervous Breakdown" from the WNYU Radio session, Jowe borrows lyrics from the song "Downtown" and adds some words to it fitting the song, after which Dan sings snippets from the Cyndi Lauper songs "True Colors" and "Time After Time".
During the WNYU session, they play "Godstar". Before the start of the song Jowe tells the radio audience that they "are listening to WNYU". After which he doubts himself and asks if he "spelled that correctly". Strangely, on the Don't Cry Baby, It's Only A Movie album, the Damaged Goods label gets it wrong themselves as the liner notes say WYNU.
Sonic Youth was in the crowd for the epic Knitting Factory show.

In 1993 the lineup was Dan Treacy (vocals/guitar), Jowe Head (bass/vocals), Lenny Helsing (drums/vocals)
1993 East Coast USA Tour
July 21/22 - New York, NY - "Wetlands"
(with Madder Rose)
July 27 - New Jersey - "WFMU Radio"
July 28(?) - New York, NY - "Brownies"
July 29 - Philadelphia, PA - "Khyber Pass Pub"
July 30 - Hoboken, NJ - "Maxwells"
(with Barbara Manning and Madder Rose)
July 31(?) - Boston, MA - "TT The Bears Place"
(with Barbara Manning)
August 1(?) - Providence, RI - "Church House Inn"
Random notes 1993
Barbara Manning toured with the TVPs and opened some of these shows in 1993 and Madder Rose did some others. If anyone can help with who opened what shows, please email me.
Sometime during this span, Jowe Head and Lenny Helsing played a "Danless" show at the Hilton Hotel Creem Stall
Kurt Cobain showed up to watch the TVPs at The Wetlands in 1993 along with Courtney Love. Debbie Harry was also there.
Kurt was a big fan of the TVPs and even invited them to open for Nirvana for a gig at the London Astoria in 1991
A reviewer at the time wrote:
"... and at the Wetlands with Nirvana's Kurt Cobain bouncing around the crowd, the 1 AM show by Britian's Television Personalities, however, was rather forgettable. While singer Daniel Treacy injected an appealing sense of sarcasm into the group's songs, the pop music itself was just too wimpy...."
The Ritz in NY would have liked the TVPs to perform there, but due to a scheduling snafu they were unable
During 1993 Dan was known to play his "omnichord" during shows. For instance during the Maxwells show where it was used to play an excellant version of The Raincoats song "No Ones Little Girl".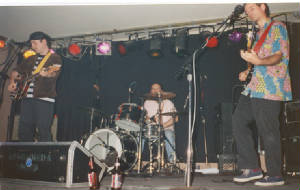 live in Boston 1993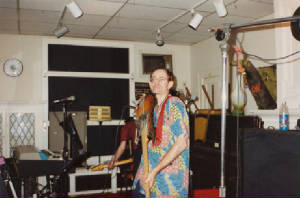 Dan & Jowe at WFMU Radio 1993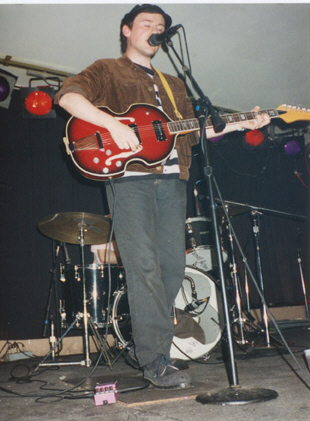 Dan in Boston 1993